Plan your event
Sydney Showground is an award-winning venue, supported by a team of dedicated professionals experienced in delivering a wide range of events to an exceptional standard. Sydney Showground offers a complete range of venue options, event planning, exhibitor services, food and beverage selection and more to suit your event.
Organising an event

Toolkit

Accessibility

Sustainability

Catering and menus
Sydney Showground is an award-winning venue, supported by a team of dedicated professionals experienced in delivering a wide range of events to an exceptional standard. Our venue team works in partnership with our clients to deliver our 'big experiences' promise.
Sydney Showground offers a complete range of venue facilities, event planning, exhibitor services and catering to suit your event.
Sydney Showground offers a dedicated team for your event including, Account Manager, Event Planner and Floor Manager to navigate you from start to finish.
From day one Sydney Showground provides assistance in designing your event. These services include:
Creating an event order for your event
Reviewing and approving floor plans
Engaging third party services including: plumbers, electricians etc
Ensure risk assessments and WHS regulations are adhered to
Create crowd entry/management plans
Confirm catering and menus with clients
Liaising with relevant government authorities
Floor Manager
The floor manager assigned to your event will oversee the smooth running of your event, coordinating security, ticketing, transport, and cleaning.
Catering
Sydney Showground, through its links with the Royal Agricultural Society of NSW, has unrivalled access to the best Australian produce available. A wide range of options, from simple tasty working lunches to restaurant quality menus, are made with the finest fresh produce from around the country. Make your selection from the Sydney Showground Menu Compendium.
Technical Services
Sydney Showground offers a range of specialist technical services with in-house electricians, plumbers, sign-makers, painters and maintenance crew at your disposal. Let your Event Manager know what you need and they'll take care of it. Audio-visual, staging and production can be provided through the venue's preferred partner, Harry the Hirer, which your event manager can provide contact for.
Connectivity
The venue is equipped with full internet access, telephone, fax and EFTPOS lines for you to service your exhibitor and attendees. A number of options are available to suit a wide range of communication and IT requirements. Brief in your requirements and let our experienced team provide a range of options.
Security
The Sydney Showground security team are experts at managing the complex challenges of big events and have an excellent working relationship with NSW Police. A 24-hour security control room with access to feeds from over 120 CCTV cameras across the precinct ensures the safety and security of guests.
Utilities
Sydney Showground is experienced in hosting events with complex requirements. The venue is able to offer a number of specialist services, such as water, gas, compressed air supplies and waste removal.
Organisers Toolkit
Operations

Health and Safety

Marketing
Marketing Requirement Form
Sydney Showground is situated within Sydney Olympic Park (SOP) where access and inclusion played a major role in the planning, design and delivery of the 2000 Olympic and Paralympic Games . It was also home to Invictus Games Sydney 2018 when The Dome was transformed into 'Invictus Games House,' home to family and friends for the duration of the Games. This legacy has helped ensure our venues are accessible to all patrons.
Transport
Over 10,000 parking spaces and 376 accessible and mobility car parking spaces.
Plan an accessibile trip on public transport to Sydney Showground via the

Trip Planner.
Amenities
All venues located within Sydney Showground have been designed with accessbility in mind including easy pedestrian access with street access to all venues.
Amenities and services at Sydney Showground include large clear signage, elevators, hearing loops, accessibile tickets, seating and toilets.
Service/Guide Dogs are permitted within the venue.
Sustainability and Corporate Responsibility
The Royal Agricultural Society of NSW (RAS) operates Sydney Showground at Sydney Olympic Park.
Sydney Showground, together with Sydney Olympic Park Authority (SOPA) have set a goal to achieve net zero carbon emissions by 2030 and actively work to minimise impact on the environment. This work includes:
Environmentally

sustainable practices
Supporting

regional

and rural communities
Location within Sydney Olympic Park, a 6 Star Green Star Communities rating precinct
Sydney Showground sustainability targets include:
Reducing site wide reliance on the grid
Maximising our investments in

competitions

and programs that support sustainable

agricultural

development and educate the community about food, fibre and farming
Home to the Sydney Royal Fine Food Awards, it should come as no surprise to hear that the Sydney Showground kitchens are stocked with only the freshest produce from around the country.
Showcasing these hero ingredients is our passion – seasonal and custom menus are carefully curated to match each and every event, highlighting the rich diversity of modern Australian dining.
Our kitchen teams focus is on high-quality, locally sourced ingredients that reflects Sydney Showground's signature fresh and vibrant style. Our chefs have a diverse background with experience in classic French, Asian, Middle Eastern and European flavours.
With renowned Executive Chef, Tim Browne at the helm the focus is on high-quality, locally sourced ingredients that reflects Sydney Showground's signature style: fresh and vibrant.
What makes Sydney Showground particularly unique is the close working partnerships forged with award-winning producers in regional Australia. With unrivalled access to the best Australian produce available, our menus are designed to impress even the most sophisticated palate.
Sydney Showground has won multiple catering awards for a variety of events including winning the 2019 Banqueting and Catering at the MEA State and Territory Awards.
With access to over 25 concessionaires and food trucks the Sydney Showground team can provide catering for numbers of 150 to 50,000 patrons.
From bespoke catering options for expos through to gala dinners with the finest seasonal produce, Sydney Showground has the ability to curate the perfect menu for your event. With fresh new creative options we can prepare a Sydney Royal Charcuterie board, a donut wall or even a bacon clothesline!
Speak to your event representative about the catering options we can offer you.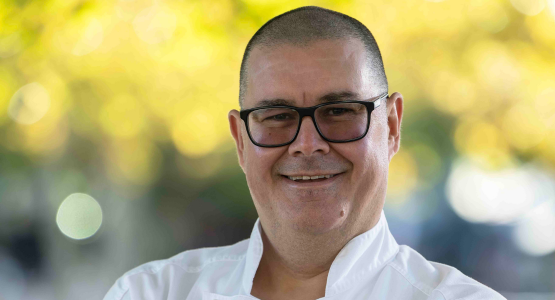 After 14 years as Executive Chef at Sydney Showground and a regular judge at the annual Sydney Royal Wine, Dairy and Fine Food Shows, Tim Browne's food philosophy is the essence of what Sydney Showground stands for – fresh, local, seasonal. "When I see the incredible quality and variety of the fresh food right on our doorstep, why would I look anywhere else?" says Tim. "Great food relies on the simplicity of combining fresh high-quality ingredients in new and vibrant ways."
Known for his play on modern Australian cuisine, supporting innovative local producers is Tim's passion. "I love getting involved and learning as much as I can about our amazing local produce," he says.
While the ingredients for his dishes are locally sourced, Tim takes food inspiration from his travels around the globe, with a focus on Asia, particularly Japan, where he worked on the 1998 Winter Olympics.
As well as managing Sydney Showground kitchens for a diverse range of clients all year round, Tim oversees the back-of-house of all restaurants, retail catering and functions at the Sydney Royal Easter Show. Such large events require incredible planning and precision.
"Whether your event is for 10 or 10,000, a cocktail party or a sit-down multi-course affair, we know how to cater with panache," says Tim. "Showcasing incredible Australian produce in original ways is our passion, pride and joy."
What our clients say about Sydney Showground
FIFA Women's World Cup Australia & New Zealand
2023
The Sydney Showground team were outstanding in all aspects of our 2023 FIFA Women's World Cup International Broadcast Centre venue delivery. The support from Management & Staff throughout the project was excellent.
WINNER: 'Best Venue Team'
2022 EEAA Awards for Excellence

WINNER: 'Best Event Venue'
(Capacity more than 1000)
2022 MEA National & State Awards.
The best event venue in Sydney